3M Combat Earplugs
The Dual-Ended Combat Arms™ Earplugs, Version 2 (CAEv2) were designed for military use and used extensively by American servicemen and women. Many may have been exposed to damaging sound levels during both training exercises and active deployment after receiving defective earplugs. Deployments during which service members were possibly affected include:
Iraq
Afghanistan
Northwest Pakistan
Somalia
Operation Ocean Shield (Indian Ocean)
Multiple American-led Interventions in Libya, Iraq, Syria, and Yemen, between 2011-2017, and to present-day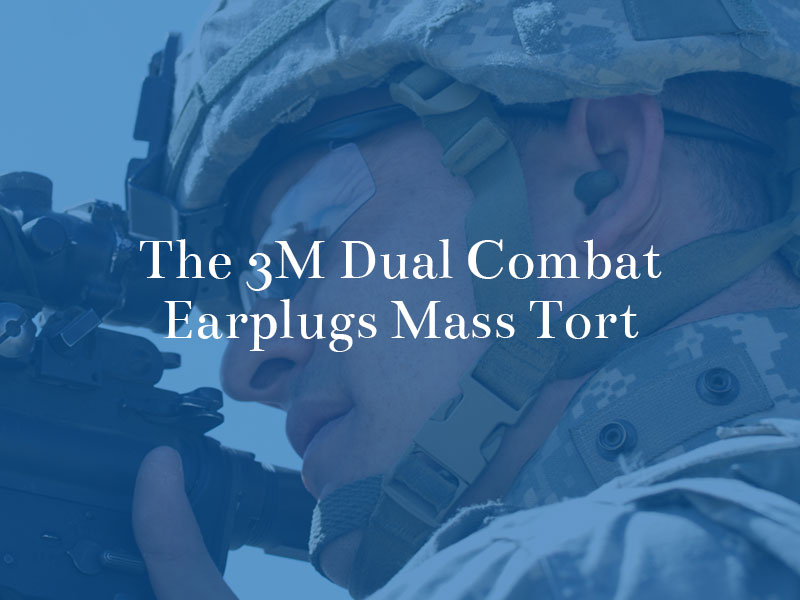 The 3M Dual Combat Earplugs Mass Tort is based on the company's failure to warn users about the defective design of 3M Combat Arm Earplugs and the resulting risk to developing both short and long-term permanent hearing loss after use.
What is Tinnitus?
Tinnitus is when a person experiences a thumping, ringing or whooshing sound in the ear, even in the absence of actual external sounds. There are more than 3 million cases diagnosed in the U.S. annually, and the condition can last several years or be lifelong.
Have You Experienced Tinnitus, or Hearing Complications?
While there are currently no scientifically validated cures or treatments for Tinnitus, the following options can ease or reduce some of the symptoms:
Maintaining General Health and Wellness
Use of Hearing Aids
Sound Therapy
Behavioral Therapy
TMJ Treatments
Experimental Therapy
What are some of the risks associated with 3M (CAEv2) Earplug Use?
Between 2003 and 2015, thousands of military service members wore these defective earplugs. Many suffered permanent hearing damage, which can affect every aspect of life, from work and personal relationships to hobbies and interests. Risks associated with the CAEv2 Combat Earplug use include hearing loss, Tinnitus, or ringing in the ears, and permanent hearing damage.
There are two major threats to hearing loss in military combat or training environments:
acute and sudden high impact noises from explosives and weaponry; and
ongoing loud noises, such as those emitting from tracked vehicles and helicopters.
Who manufacturers Combat (CAEv2) Earplugs
Minneapolis based 3M manufactured dual-ended earplugs for hearing protection from close range firearms and other loud impact noises. However, due to their defective design, these earplugs can slightly loosen and subtly move out of the ear canal just enough for the loud sounds to cause hearing damage.
The Dunken Law Approach to Representing Servicemen and Women with 3M Earplug Exposure
You might have a legal claim if you have a medical diagnosis of Tinnitus, or permanent hearing loss as a result of active military duty between 2003-2015. The mass tort litigation lawyer at Thee Dunken Law Firm approach is hyper client-focused: with our high-touch client concierge platform you'll receive regular litigation updates, customized content to explain the mass tort process, and proactive communication. Speak to one of our knowledgeable case management specialists and receive a free legal consultation. Use the form on this page to get started.