Roundup Lawsuit Attorneys
Roundup – a Monsanto (Bayer) produced glyphosate-based broad-spectrum herbicide (GBH) – is the world's most popular and widely used weedkiller product. In 2015, a health assessment conducted by the International Agency for Research on Cancer (IARC) uncovered a relationship between exposure to the active ingredient in Roundup, glyphosate, and a host of cancers, including non-Hodgkin's lymphoma (NHL). In the wake of this research, tens of thousands of mass tort civil lawsuits have been filed alleging that exposure to Roundup led plaintiffs to develop NHL.
The latest mass torts are based on the company's failure to warn consumers about potential cancer and organ damage risks associated with glyphosate exposure. If you have been a victim and are suffering from a cancer-related disease due to Roundup exposure, get in touch with The Dunken Law Firm today, we offer free consultations.
Other Roundup State Lawsuit Cases We Handle:
How Do I Get a Lawyer for My Roundup Lawsuit?
If you or a loved one were exposed to Roundup (or other glyphosate-based herbicides) and developed non-Hodgkin's lymphoma, or an illness previously linked to Roundup, you may be eligible for legal recourse and financial compensation. The qualified and dedicated team of Roundup lawsuit lawyers at The Dunken Law Firm are here to help. Contact us at (713) 554-6780 for your free consultation and case evaluation, today.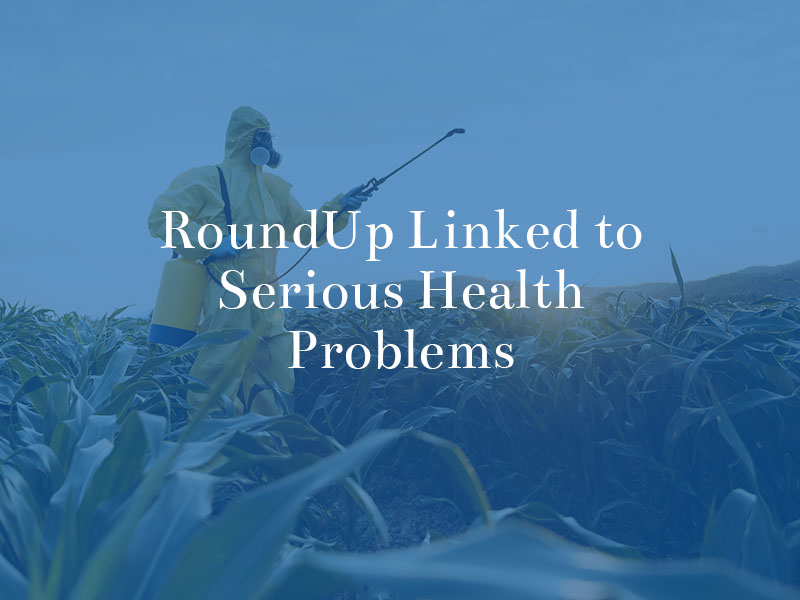 What is Roundup and the Link to Cancer?
Roundup – the name of a glyphosate-based herbicide (weedkiller) product developed in the 1970s by Monsanto (recently purchased by Bayer) – is marketed as a tool to kill weeds in lawns, driveways, patios, gravel fence lines, tree rings, mulch beds, vegetable gardens, flowerbeds, and tough brush.
Current Roundup products include:
Roundup Precision Gel
Roundup Ready-to-Use Weed & Grass Killer III
Roundup Weed & Grass Killer Concentrate
Roundup Ready-to-Use Extended Control Weed & Grass Killer Plus Weed Preventer II
What Is Monsanto's Roundup Used for?
Roundup is used in the harvest of over 100 crops, including corn, soy, cotton, and sugar beet. Since the 1970s, Roundup has been the most popular and widely used weedkiller product, both by everyday consumers and industrial-scale agricultural enterprises. Roundup has long been believed to be and marketed as one of the safest herbicides on the market. However, new research and the prevalence of cancer among agricultural workers with direct exposure to Roundup, has resulted in newfound scrutiny of the herbicide and been the subject of thousands of lawsuits.
The International Agency for Research on Cancer (IARC), an intergovernmental agency branch of the World Health Organization (WHO), conducted a comprehensive health assessment in 2015, which concluded that Roundup's active ingredient, glyphosate, was "probably carcinogenic to humans" and specifically linked Roundup exposure to:
Non-Hodgkin's lymphoma
Lymphocytic lymphoma
B-cell lymphoma
Chronic lymphocytic leukemia
Hairy cell leukemia
As a result of their research, Roundup (glyphosate) has been classified by the WHO as a Group 2A carcinogen. New research from the University of California Berkeley and the University of Washington, published in July 2019, suggests the increased risk of non-Hodgkin's lymphoma following RoundUp exposure could be as high as 41%.
Roundup Injuries & Side Effects
You might be asking yourself, "is Roundup is harmful to humans?" In addition to the findings of the IARC and UC Berkeley/University of Washington assessments, Roundup has also been linked to a collection of other health problems, including:
Liver damage
Diabetes
Kidney disease
Parkinson's disease
Multiple sclerosis (MS)
Lou Gehrig's disease (ALS)
Sterility
Breathing problems
What is Non-Hodgkin's Lymphoma?
Cutaneous T-Cell Lymphoma is a rare form of cancer that begins in the body's white blood cells and attacks the skin. The T-cell Lymphoma is part of the cancers in the Non-Hodgkin's Lymphoma group and is normally diagnosed through a team of radiologists, dermatologists, hematologist, and pathologists.  Tests to reach a T-Cell Lymphoma diagnosis include a physical exam, blood tests, biopsies, and imaging tests.
Who is at Risk of Roundup Exposure and Non-Hodgkin's Lymphoma?
Because of Roundup's carcinogenic properties, anyone who has used or been directly exposed to Roundup (glyphosate) is subject to some additional risk of health complications. However, both the IARC and UC Berkeley/University of Washington assessments acknowledge that those with the highest and most frequent levels of exposure to Roundup are those with the most significant risk of non-Hodgkin's lymphoma and other glyphosate-related health issues.
As a result, individuals with the greatest risk of Roundup related health issues are:
Farm workers
Agricultural laborers
Gardeners
Groundskeepers
Those who work in Garden Centers
Landscapers
Barge operators
General consumers with repeated direct exposure
These individuals are exposed to Glyphosate from breathing it in while spraying or mixing the Roundup product. Also, they can be exposed to by drinking water or eating food that has been contaminated with it.
Among patients who have exposure to certain herbicides and pesticides, those with diets high in meats and fats, having a history of autoimmune diseases, a diagnosis of Epstein Barr disease, or taking immunosuppressant drugs after an organ transplant – are at an especially high risk of developing Non-Hodgkin's Lymphoma.
The scientific community continues to study the impacts of various levels of glyphosate exposure on cancer (and other health-related issues) risks.
Who is Monsanto?
The Monsanto Company is an American agrochemical and agricultural corporation founded in 1901 and based out of Creve Coeur, Missouri. In June of 2018, the German multinational and pharmaceutical company, Bayer, acquired Monsanto (for $63 billion) as part of its crop science division. Following the acquisition by Bayer, the Monsanto name was retired in an effort to improve consumer trust in the brand.
What are the Claims Against Monsanto?
Despite efforts to improve their reputation, both Monsanto and Bayer have long been the subject of controversy and lawsuits for their negligence and failure to inform consumers of the considerable health risks and environmental effects associated with their products, including Roundup. In the United States alone, Monsanto has been the subject of legal action for pollution in rural communities, environmental impacts, genetically modified crops, financial impropriety, and cancer risks associated with their most popular weedkilling product, Roundup.
Following the publication of the IARC and UC Berkeley/University of Washington health assessments related to Roundup, Monsanto/Bayer has been subject to a growing number of nearly 11,000 lawsuits regarding Roundup and its relation to non-Hodgkin's lymphoma. Monsanto and Bayer have consistently maintained the "safety" of the product and made repeated attempts to discredit the science and conclusions of these and other analyses on Roundup's relationship to cancer. Monsanto, prior to its acquisition by Bayer, often touted that Roundup was "as safe as table salt" and was "so safe you can drink it." While Monsanto and Bayer claim to lean on significant and widespread scientific data in support of their assertions, these analyses generally predate that of the IARC and UC Berkeley/University of Washington studies.
Monsanto Verdicts and Settlements
Of the nearly 11,000 pending cases to go to trial, many have resulted in sweeping victories for plaintiffs. The first Roundup cancer lawsuit to go to trial – brought by Mr. Dewayne Johnson, a groundskeeper who was diagnosed with non-Hodgkin's lymphoma following repeated use of Roundup in his work – in 2018, resulted in a $289 million verdict on behalf of the single plaintiff.
Other recent cases have resulted in verdicts in favor of plaintiffs as high as $2 billion. Monsanto and Bayer have been held to account both for the fact that Roundup leads to cancer and their failure to inform the general public of those risks.
How Many Roundup Lawsuits Have Been Filed?
There are currently roughly 11,000 pending Bayer/Monsanto Roundup lawsuits for related illnesses and cancer diagnoses. Of those pending lawsuits, there have been a couple landmark decisions that set the stage for the future of Roundup litigation.
Plaintiff Cases and Results
In the first Roundup, case to go to trial, plaintiff Dewayne Johnson, a career school groundskeeper who was diagnosed with non-Hodgkin's lymphoma, was awarded $289 million in damages ($39 million in compensatory damages and $250 million in punitive damages) after a San Francisco jury found Monsanto liable for his illness. In Johnson's career as school groundskeeper and pest control manager, he had applied Roundup weed killer up to 30 times per year. Johnson was 46 years old when diagnosed with non-Hodgkin's lymphoma and had no family history of the illness or related cancers. Johnson's trial was fast-tracked because of his physician's estimation that he would be unlikely to live past 2020. The IARC health assessment was a substantive component of the testimony heard at trial. One of the most notable outcomes from the Johnson trial was the discovery of documents referred to as the "Monsanto Papers," which revealed that Monsanto had hardly tested, and actively avoided, disclosing the toxicity of Roundup.
The jury ultimately determined that Roundup caused Mr. Johnson's cancer and that Monsanto acted with "malice or oppression" by failing to warn Johnson of the product's health hazards. The jury found unanimously that Monsanto's glyphosate-based Roundup weed killer caused Mr. Johnson to develop Non-Hodgkin's Lymphoma (NHL), and that Monsanto failed to warn of the severe health hazard attached to use of Roundup Precision Gel, Roundup Ready-to-Use Weed & Grass Killer III, Roundup Week & Grass Killer Concentrate, and Roundup Ready-to-Use Extended Control Weed & Grass Killer II.
In a subsequent 2019 California trial, plaintiffs Alva and Alberta Pilliod, general consumers who'd been diagnosed with non-Hodgkin's lymphoma following years of Roundup use in their home lawns, were awarded over $2 billion in damages ($55 million in compensatory damages and $1 billion in punitive damages each). Notably, this decision came shortly following the Environmental Protection Agency (EPA) announcement that "glyphosate is not a carcinogen." Attorneys for the plaintiff say the data and science reviewed at trial went far beyond that of the studies evaluated by the EPA, and conclusively demonstrated that glyphosate causes cancer.
Thousands of other Roundup related lawsuits remain ongoing and pending within the civil court system. If you or someone you love are suffering illnesses from exposure to Roundup, considering seeking legal advice from a Roundup lawsuit attorney.
Who Can File a Roundup Cancer Lawsuit?
Generally speaking, anybody diagnosed with non-Hodgkin's lymphoma after using Roundup in their occupation or own residential property is eligible to bring a lawsuit against Monsanto/Bayer. However, the vast majority of Roundup class action lawsuits are filed by general consumers and laborers with repeated exposure to Roundup and other glyphosate herbicides, who have been diagnosed with non-Hodgkin's lymphoma (or other subtypes of the cancer).
Anybody diagnosed with non-Hodgkin's lymphoma after using weed killer Roundup should consider contacting a mass tort attorney to discuss their eligibility to seek financial damages.
How Can We Help?
When diagnosed with lymphatic cancer, like non-Hodgkin's lymphoma, the last thing on your mind is likely how you can sue Monsanto for a financial award. However, alongside a devastating cancer diagnosis comes the reality of the exceedingly high cost of medical care and potentially lost wages, that you should not have to bear alone. It is exceedingly likely that this newfound financial burden (in addition to your medical diagnosis) would not exist absent proper warning and acknowledgment of the risks associated with products like Roundup. As such, we at the Dunken Law Firm believe that you should not have to bear that financial burden and should hold companies like Monsanto to account.
You might have a legal claim if you've been exposed to Roundup products in a commercial or residential environment and have experienced skin penetration, and as a result, have been given a diagnosis of T-Cell NHL, or qualifying blood cancers that are subtypes of NHL, B-Cell Neoplasms and T/NK Cell Neoplasms. Glyphosate is a tumor promoter + surfactant (POEA) and while it penetrates beyond a leaf's surface, it can also do the same for human skin.
Get in Touch with Our Roundup Weed Killer Lawyers Today
The highly qualified team of Roundup weed killer lawyers at our firm have a long history of fighting on behalf of victims impacted by drugs, defective medical equipment, and toxic consumer products, like Monsanto/Bayer's Roundup. As experts in the field of mass tort litigation, the Dunken Law Firm is equipped and ready to advocate on your behalf and ensure you're provided both the individualized concierge-like client experience and legal outcomes you deserve.
Our mass tort lawyers approach places a hyper-focus on our clients, with a high-touch client concierge platform, providing regular litigation updates, customized content and proactive communication to ensure you're involved and informed at every step of the Roundup class action lawsuit process.
Free Case Consultation
To begin your case evaluation process and be scheduled for a free consultation, contact a Roundup lawsuit attorney from The Dunken Law Firm (713) 554-6780, today.