Am I Entitled to Compensation from Roundup Exposure?
October 7, 2019 | Firm News
Lawsuits for cancer caused by RoundUp exposure are on the rise. RoundUp is the most popular herbicide in the world, however its main ingredient glyphosate has been connected to increasing the risk of developing non-Hodgkin's lymphoma (NHL). If you have frequently been exposed to RoundUp and have been diagnosed with cancer, you may be entitled to compensation from the product's manufacturer Monsanto (Bayer).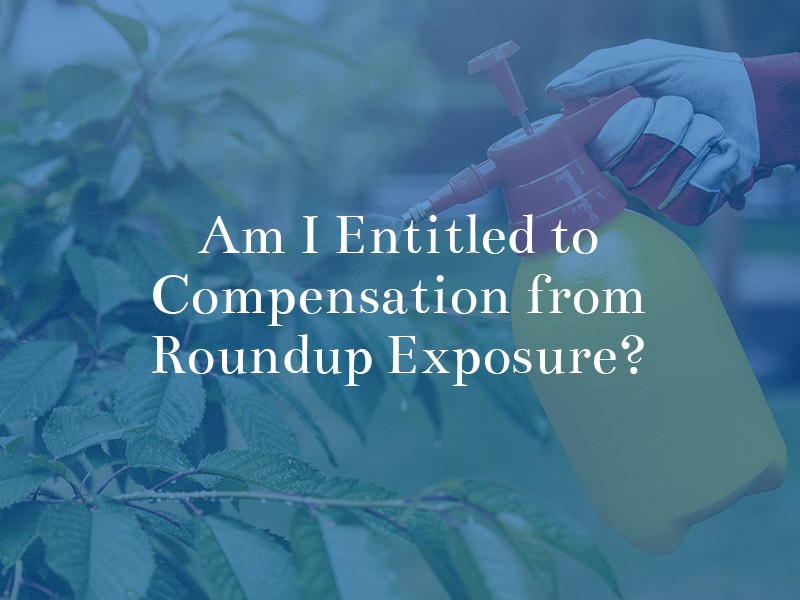 Certain individuals are especially at risk from the product, due to consistent and high exposures. Those people include:
Farmers;
Agriculture Workers;
Landscapers;
Nursery and garden center employees;
Professional Gardeners;
and, Groundskeepers.
Though chronic use seems to have the most harmful effects, Roundup may be dangerous for homeowners too.
Forms of RoundUp Cancer
Multiple studies have linked the development of specific types of cancer to RoundUp exposure. The most common being NHL, multiple myeloma, and leukemia. NHL also has certain qualifying subtypes:
Diffuse large B-cell lymphoma
Follicular lymphoma
Chronic lymphocytic
Small lymphocytic lymphoma (SLL)
Hairy cell leukemia (HCL)
Mantle cell lymphoma
Marginal zone B-cell lymphomas
T-cell lymphomas
Peripheral T cell lymphomas (PTCL)
However, if you or a loved one have a history of using Roundup in your yard or while at work and is suffering from any form of cancer or illness, then you may be eligible to file a cancer claim against Monsanto.
Potential Damages
RoundUp cancer victims who file lawsuits are able to pursue the following damages:
Past and future medical treatment and care costs.
Past and future lost wages.
Diminished earning capacity.
Out-of-pocket expenses related to diagnosis, treatment, or support.
Pain and suffering.
Punitive damages (in some cases).
Family members who have lost a loved one due to an NHL diagnosis related to RoundUp, may also be able to recover damages for funeral and burial costs, as well as any other related expenses.
RoundUp Lawsuits and Settlement Potential
As lawsuits over RoundUp have surpassed 18,000, there have been three jury verdicts in favor of plaintiffs, but not a single settlement with Monsanto (Bayer). Now, the chief executive of Bayer, which recently acquired Monsanto, is saying he would consider a "financially reasonable" settlement of litigation. Even so, no further explanation has been given as to what that amount might be and a global medication discussion regarding compensation has not yet occurred. Monsanto (Bayer) continues to insist on RoundUp's safety and is vigorously trying to have cases dismissed.
After the third successive loss by Bayer, the damages have exceeded $2 billion:
August, 2018 — $289M Verdict
In the first RoundUp cancer lawsuit to reach trial, a California jury ruled in favor of a 46-year-old groundskeeper who developed NHL after years of spraying RoundUp while on the job. The jury agreed that Monsanto failed to warn consumers of the cancer risks associated with using their product. The judgment was later reduced to $78M.
March, 2019 — $80M Verdict
The second trial to reach a verdict, in which another California jury found that RoundUp was a "substantial factor" in a California man's diagnosis of NHL. The victim had been using RoundUp around his house for decades. A judge later lessened the damages to $25M.
May, 2019 — Over $2B Verdict
The third California jury to reach a verdict, ordering Monsanto to pay damages to a Livermore couple who developed NHL after using RoundUp for more than 30 years. The award has since been slashed down to $86.7M.
Although the amount of compensation in each case has decreased with time, the consecutive wins for victims is a positive indication of what outcomes could hold for future cases.
We Will Review Your Case for Free
Contact The Dunken Law Firm if you or a loved one has developed cancer from using RoundUp. Our Roundup cancer lawsuit lawyer will alleviate you from any legal stress and recover the compensation you need and deserve. Discuss your legal options today by calling (713) 554-6780 or requesting a free consultation online.