Zantac Lawsuit
The US Food and Drug Administration has called for a recall of all Zantac and related products on the U.S market over concerns that long-term use may significantly increase the risk of certain types of cancers. If you or a loved one has developed cancer after regular use of Zantac and other ranitidine products, please contact the mass tort attorneys from The Dunken Law Firm today to discuss your case. You may be eligible for significant compensation for your injuries.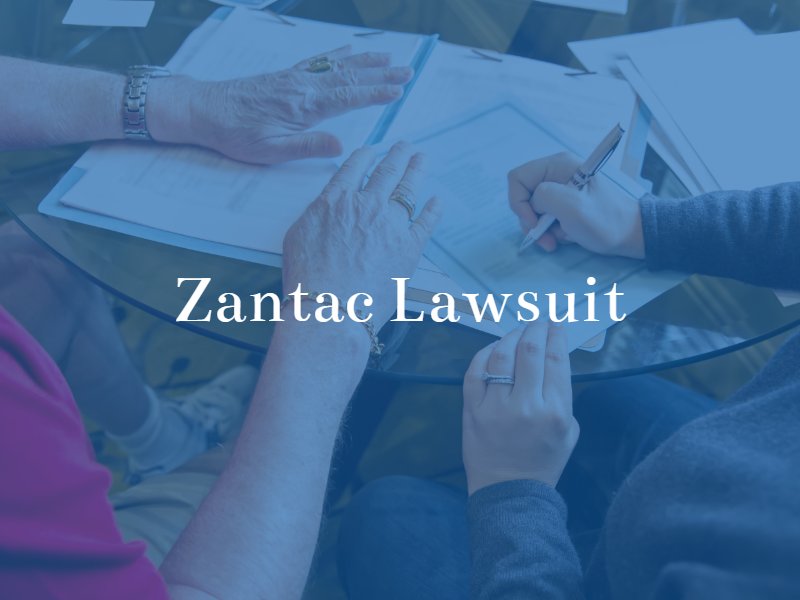 What is Zantac?
Zantac is the brand name of the drug ranitidine, sold and manufactured by Sanofi, Inc. The medication is commonly known as anti-heartburn medication; it reduces the stomach's acid production and is commonly prescribed to treat peptic ulcers, Zollinger-Ellison syndrome, erosive esophagitis, and acid (gastroesophageal) reflux disease.
In September 2019, the FDA initiated voluntary recall procedures for certain ranitidine brands due to the potential contamination of N-nitrosodimethylamine (NDMA), a potent known carcinogen. They recommended a recall if testing shows levels of NDMA above the acceptable daily intake (96 nanograms per day or 0.32 parts per million for ranitidine).
Since initial investigations, there were over 14 recalls of ranitidine products from manufacturer – and as of April 1, 2020, the FDA has called for a recall of all ranitidine products, as well as a halt to all production.
More About NDMA
NDMA is a semi-volatile organic chemical that forms in both industrial and natural processes. It is a member of N-nitrosamines, a family of potent carcinogens
NDMA is not currently produced in pure form or commercially used in the United States, except for research purposes. It was formerly used in production of liquid rocket fuel, antioxidants, additives for lubricants and softeners for copolymers
NDMA is also an unintended byproduct of the chlorination of wastewater and drinking water at treatment plants that use chloramines for disinfection
What is Zantac Used For?
Zantac is a histamine-2 blocker that works by reducing the amount of acid a person's stomach produces. In addition to heartburn, Zantac is also used to treat gastroesophageal reflux disease (GERD) and is available in both prescription and over the counter versions.
What Are the Side Effects of Zantac?
Zantac can cause the following side effects:
Constipation
Diarrhea
Fatigue
Insomnia
Decreased Sex Drive
Muscle Pain
Stomach Pain
Throat Discomfort
Swollen Breasts (in Men)
If you experience consistent side effects, notice a fast progression or any of those more dangerous side effects, you or your doctor can send a report to the FDA MedWatch Adverse Event Reporting program online or toll-free by phone at 1-800 332-1088.
Why Was Zantac Taken Off the Market?
Zantac initially came under scrutiny when a third-party lab analyzed over-the-counter versions of it and found higher-than-acceptable levels of NDMA. Further testing found that, under certain conditions, ranitidine had the possibility to metabolize into the carcinogen. Zantac manufacturers pushed back, claiming that they had underwent rigorous testing that found ranitidine only metabolized under extreme pressure and temperatures.
After refining testing procedures, the third-party lab found that, in conditions simulating the temperature and pH of the human body, ranitidine indeed metabolized into NDMA. As a result, the FDA stepped in to conduct their own investigation into the matter, issuing a voluntary recall of the product to remain cautious.
After months of investigation, the FDA concluded that Zantac and all ranitidine products must all be removed from the market. According to their findings, ranitidine may be an inherently unstable drug that persistently metabolized into NDMA, even under normal conditions. They found that older ranitidine samples had more amounts of NDMA than newer samples – and the longer they were left alone, the more NDMA was found.
Does Zantac Cause Cancer?
Numerous scientific studies have shown the potency of NDMA as a carcinogen in both animals and humans. In fact, in many labs, NDMA is specifically used to induce tumors in rats for scientific studies.
It is important to note that NDMA has been found to be carcinogenic in those who have long-term exposure and/or ingestion of the chemical. Many people who have been taking Zantac and other ranitidine products may have an elevated risk of certain cancers such as:
Esophageal cancer

Colorectal cancer

Intestinal cancer

Kidney cancer

Liver cancer

Throat cancer

Lung cancer
Signs of Esophageal and Throat Cancer
If you have any of the following signs or symptoms, contact your doctor immediately:
Weight loss without trying
Pressure or burning in the chest
Frequent Indigestion and heartburn
Frequent choking on food
Unexplained pain behind the breastbone or in the throat
Dysphagia, increasing problems with swallowing, including food getting stuck
What Can I Take Instead of Zantac?
The FDA has recommended other anti-acid medications as a viable alternative to Zantac and ranitidine. This includes:
Pepcid (famotidine)

Tagamet (cimetidine)

Nexium (esomeprazole) 

Prevacid (lansoprazole)

Prilosec (omeprazole)
They have tested these drugs and found no amounts of NDMA in them.
Lawsuit Against Zantac
We are currently accepting clients to file lawsuits against manufacturers of ranitidine for its carcinogenic properties. You may be eligible for significant compensation if:
You have been using Zantac or other ranitidine products two or more times a week for at least two years

You have been diagnosed with one of the above cancers at least one year from the start date of Zantac use
Although you may not qualify if you have undergone any risk-associated behaviors such as smoking in this time, you may still be eligible for some form of compensation. 
The Dunken Law Approach to Representing Patients with Zantac Use
If you or a loved one has been diagnosed with cancer due to regular ranitidine use, the Dunken Law Firm can help you seek compensation. Manufacturers such as Sanofi deserve to be held fully accountable for your damages due to their negligent actions. Not only did they fail to properly notify patients of the potential risks on their label, but they also knowingly released a drug that may be inherently unstable onto the market.
The Dunken Law Approach is hyper client-focused: with our high-touch client concierge platform you'll receive regular litigation updates, customized content to explain the mass tort process and proactive communication. Speak to one of our knowledgeable mass tort litigation attorneys and receive a free legal consultation. Use the form on this page to get started.