Talcum Powder-Long-Term Use Linked to Both Mesothelioma and Ovarian Cancer
Talc is comprised of magnesium, silicon and oxygen. It is the main ingredient in popular branded talcum products such as Shower to Shower and Johnson's Baby Powder. Talc was used in these products for its ability to reduce friction and absorb moisture. Known as a mineral with the softest properties, talc has been used in cosmetic powders and other makeup products as well. Popular concentrations of talc, such as those made by consumer goods giant Johnson & Johnson,  allegedly including the known carcinogen asbestos, have been linked to users developing both mesothelioma and ovarian cancer. The company continues to face thousands of mesothelioma and ovarian cancer-related talc claims nationwide, in state and federal court.
Mesothelioma
In September 2019, a New Jersey state court jury awarded a total of $37.3 million to four plaintiffs alleging their mesothelioma was developed when they inhaled asbestos they claim was present in Johnson & Johnson's cosmetic talc products. This case in New Brunswick has been the only talc mesothelioma trial with multiple plaintiffs in the history of talc litigation in the U.S.  Jurors in the case awarded $7.25 million to Douglas and Roslyn Barden, $9.45 million to David and Darlene Etheridge, $14.7 million to D'Angella McNeill, and $5.9 million to William and Elizabeth Ronning. The plaintiffs claimed they spent years inhaling asbestos due to their use of Johnson's Baby Powder, alleging that the asbestos in the product formulation caused them to develop mesothelioma, a deadly form of cancer widely associated with asbestos.
Attorneys for Johnson & Johnson argued their talc product line never contained asbestos, questioning the science behind the allegations linking their product to the deadly cancer.  This  year in 2019, there are two mesothelioma trials in California, and one in Georgia, that case being the state's first cosmetic talc trial (ovarian cancer).
Ovarian Cancer
In the breakthrough litigation for talc-based products and powders, Deane Berg alleged in her 2003 lawsuit against Johnson & Johnson that her use of Shower to Shower caused her diagnosis of ovarian cancer. Though the federal jury ruled in favor of Berg, no damages were awarded. However, the jury did state that J&J should warn consumers of the link between ovarian cancer and the use of talc-based body powder for feminine hygiene.
On February 22, 2016, the family of Jackie Fox, who died in 2015 from terminal cancer after using Johnson's Baby Powder for years, was awarded a $72 million-dollar verdict. The court upheld her attorneys' findings that the company failed to warn customers about the possible dangers of using talcum powder and proved the company knew about studies linking its talcum powder to increased risk of ovarian cancer.
In July 2018, a St. Louis jury awarded 22 women who said Johnson & Johnson products contributed to their ovarian cancer $4.7 billion in punitive and compensatory damages.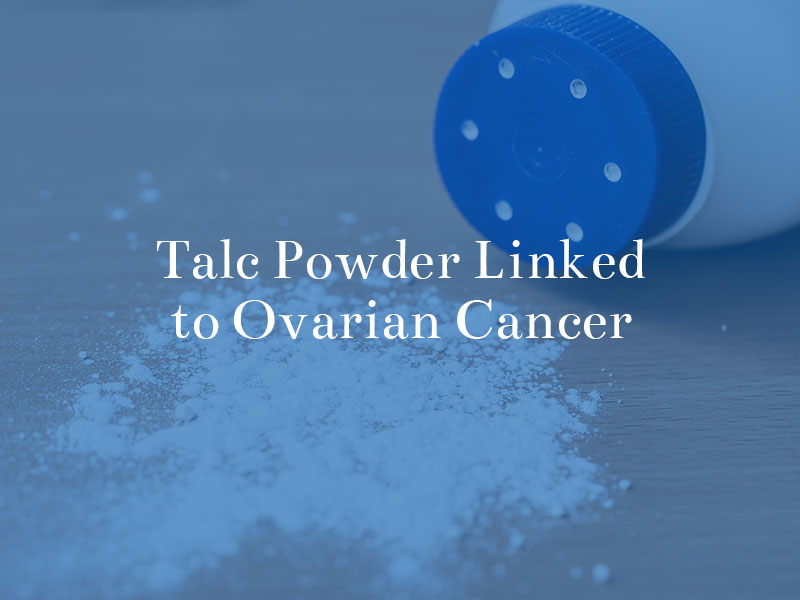 Who is at risk for developing Mesothelioma due to Talc exposure?
Anyone who has come into repeated or long-term contact with the carcinogen asbestos is at risk for developing mesothelioma. An aggressive cancer that forms in the membranes of the body's cavities, such as the lungs, heart and stomach, mesothelioma moves quickly and metastasis occurs early on in most cases.
Reuters News Service in December 2018  published a report detailing that the company knew that the talc in its raw and finished powders sometimes tested positive for small amounts of asbestos from the 1970s into the early 2000s – which the company failed to disclose to consumers/general public.  The company denies the report's findings, and continues to promote the safety of its baby powder, maintaining that repeated internal tests of their products have never had asbestos and that it has continued to cooperate fully with global and national regulators, including the U.S. Food and Drug Administration.
What are some of the signs and symptoms of mesothelioma?
In its early stages, mesothelioma symptoms include coughing, night sweats, weight loss, chest pain, abdominal swelling and lumps in abdomen. Diagnosis of mesothelioma requires lab tests and imaging, and the disease can last several years or be lifelong.
Who is at risk for developing Ovarian Cancer due to Talc exposure?
Talcum powder, and other products made with talc, have been heavily marketed to several generations of women as an option to maintain feminine comfort during undergarment wear and help prevent vaginal odor. Today, the scientific community has established links between the use of talcum powder and the incidence of ovarian cancer. Women who use talc-based products are at a 30% increased risk of developing ovarian cancer, as the talc particles can travel from the vaginal area to the ovaries.
The International Agency for Research on Cancer-IARC, a World Health Organization agency, has ruled that talc-based products used near genitals are "possible carcinogens." Women using talcum powders during ovulation are at a 92% increased risk of developing ovarian cancer. Over the last 30 years, most ovarian cancer tumors have been found to have talc particles embedded in them.
Since the first ovarian cancer study documenting talc's risk was published in the The Lancet in 1971, there are have been 20+ additional studies linking the use of talcum powders to increased ovarian cancer risk. Today, in addition to the IARC, the American Cancer Society also considers intimate (genital area) talc use a risk factor. Despite the findings of the scientific community, talc labels still do not warn about the risk.
What are some of the signs and symptoms of ovarian cancer?
In its early stages, ovarian cancer symptoms can be confused with the symptoms of other common illnesses such as abdominal bloating, indigestion and nausea. Late-stage symptoms include persistent abdominal pain, bloating, cramping, long bouts of constipation, pain or pressure on the bladder, frequent urination, and loss of appetite/general fatigue.
Who are some of the main manufacturers of talcum powder?
The main manufactures of talcum powders include Colgate-Palmolive, Johnson & Johnson, or 'J & J', and France-based Imerys.
The Dunken Law Approach to Representing Persons Exposed to TALC
You might have a legal claim if you've used talcum products over a minimum 10-year period, are between the ages of 30 and 65, have no family history of breast or ovarian cancer, no positive results for BRCA1 or BRCA2 gene testing, and current mesothelioma or ovarian cancer diagnosis. The Dunken Law Approach is hyper client-focused: with our high-touch client concierge platform you'll receive regular litigation updates, customized content to explain the mass tort process, and proactive communication. Get in touch with our mass tort litigation attorney and receive a free legal consultation!