Oklahoma Roundup Lawsuit Attorney
Recent research indicates that the popular weed killer RoundUp may dramatically increase the chances of developing non-Hodgkin's lymphoma (NHL). If you or your loved ones have been injured after exposure to RoundUp, our Oklahoma product liability team can help you navigate the process of filing a claim. The Dunken Law Firm is accepting new cases in Oklahoma and throughout the country involving victims who have developed NHL or other glyphosate-related diseases from using the herbicide. Contact us today for an Oklahoma Roundup lawsuit lawyer and receive a free case evaluation.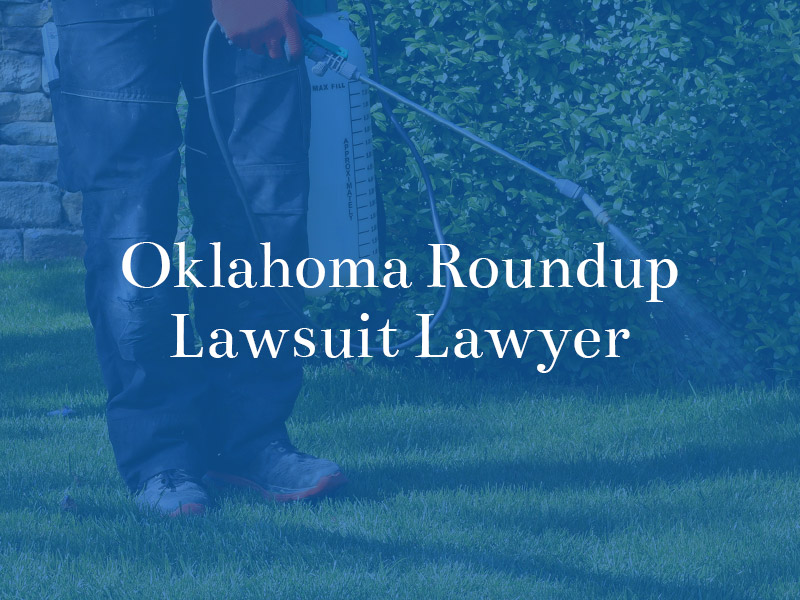 What is RoundUp?
Roundup, originally manufactured by Monsanto, is marketed as a herbicide that kills weeds but will not harm other plants. It is used both commercially, for farming and landscaping, as well as residentially, in lawns and personal gardens. In 2015, the International Agency for Research on Cancer (IARC, part of the World Health Organization) issued a warning regarding RoundUp's active ingredient, glyphosate, describing the chemical as a possible carcinogen. The IARC linked glyphosate to the development of non-Hodgkin lymphoma. Despite attacks and push back from the large agro-chemical industry, especially Monsanto, the IARC stands by its assessment that glyphosate may cause cancer. A recent scientific analysis only further confirmed their findings, reporting that high exposures of glyphosate can actually increase the risk of developing NHL by 41 percent.
Who Is in the Most Danger of Roundup Exposure?
The following individuals who work closely with Roundup seem to be at the highest risk for adverse effects from glyphosate and other ingredients found in its formulation:
Farmers
Farmers often rely on RoundUp to keep weeds at bay, and can be exposed to the alleged carcinogen glyphosate on a regular basis. Especially those that work with crops commonly sprayed with RoundUp, including: corn, cotton, soybeans, sugar beet, and wheat. Many farmers never wear protection when applying the herbicide. This is due to the Environmental Protection Agency (EPA) continuing to state that there are no health risks when glyphosate is used according to the instructions on its current label.
Landscapers or Groundskeepers
Professional landscapers can potentially be exposed to as much, if not more, glyphosate than farmers over the course of a single year. Exposure can occur even when the chemical is not being sprayed, simply by tending to lawns, shrubbery, flowers, and trees.
Homeowners
Individuals may choose to apply the herbicide on their property, including their lawns and gardens. Homeowners who use it often and over a long period of time may have a slightly higher risk of developing NHL than the average person.
Top Oklahoma Counties Most at Risk
Residents in the following 10 counties had the most exposure to glyphosate in Oklahoma, over a period of 25 years, between 1992 and 2017:
Texas County — 2,164,419 Kg
Jackson County — 1,358,903 Kg
Tillman County — 1,339,049 Kg
Kay County — 1,091,771 Kg
Cimarron County — 1,002,398 Kg
Kiowa County — 810,661 Kg
Grant County — 807,309 Kg
Caddo County — 795,291 Kg
Beaver County — 718,675 Kg
Garfield County — 701,117 Kg
Over 96 percent of Americans across the U.S., approximately 314 million people, live in counties where farmers use glyphosate, according to data from the U.S. Geological Survey (USGS).
Who Can File an Oklahoma Roundup Lawsuit?
Since studies have confirmed that there are dangers associated with the use of glyphosate, those who utilize Roundup in Oklahoma and end up injured as a result, should speak to a Roundup lawsuit attorney. Especially individuals who have an extensive history of exposure to the chemical, and have been diagnosed with NHL or another illness. The more you are exposed to RoundUp, the more this probable carcinogen can raise your cancer risk. If your case qualifies, an Oklahoma Roundup lawsuit attorney can help you pursue the financial compensation you need for the losses you have suffered.
Contact Us Today
Our mass tort attorney is willing to fight with you against the large corporation with a Monsanto Roundup lawsuit. We are ready to pursue the justice you deserve. To schedule a free legal consultation, call (713) 554-6780, or contact us online.