Kentucky Roundup Lawsuit Lawyer
Monsanto, now owned by Bayer, is going up against more than 40,000 plaintiffs who are claiming their product RoundUp is the cause of their cancer. These Roundup cancer lawsuits are based on multiple studies confirming the link between the herbicide's main ingredient glyphosate and cancer, but more specifically non-Hodgkin's lymphoma (NHL). The Dunken Law Firm is offering free consultations to Kentucky residents who believe their illness is related to the use of RoundUp. Contact our office to schedule a case evaluation today and speak with a Kentucky Roundup lawsuit attorney. We are available online or by calling (713) 554-6780.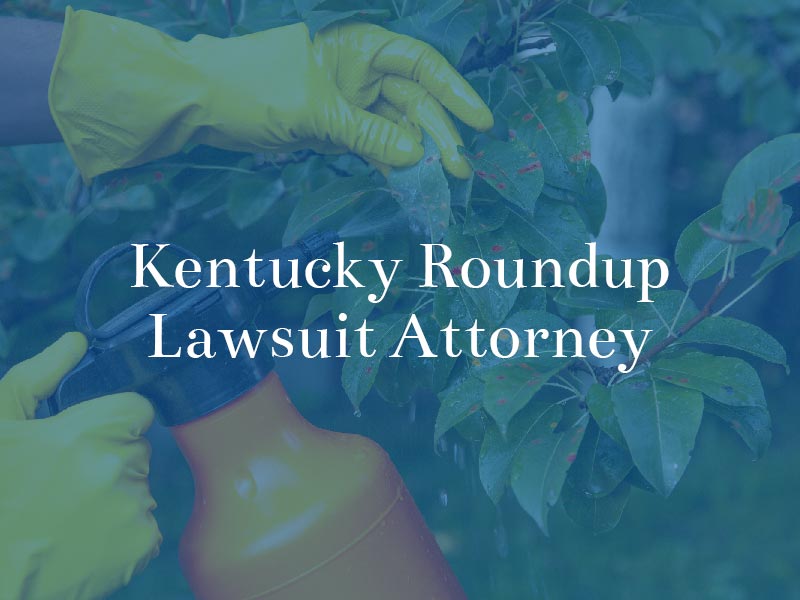 Who Is At Risk?
There are specific people who may be at an increased risk of Roundup exposure. This typically includes people who are regularly exposed to the herbicide, particularly at work, such as:
Agricultural workers
Farmers (especially those that work with commonly sprayed crops, including corn, soybeans, wheat, cotton, and sugar beet)
Landscapers
Nursery employees
Professional gardeners
Herbicide applicators
Groundskeepers
Homeowners who regularly treat their gardens and lawns with Roundup.
What are the Top 5 Counties in Kentucky Most at Risk?
The type of exposure, frequency, and duration can all affect and increase one's risk of experiencing adverse effects from glyphosate. In Kentucky, the top five counties known for their high use of glyphosate are Graves County, Christian County, Henderson County, Daviess County, and Union County.
How is RoundUp Linked to Cancer?
A 2019 scientific analysis stunned the RoundUp community when it reported that glyphosate-based herbicides increase the contraction of NHL by 41 percent. This shocking statistic came after the World Health Organization's International Agency for Research on Cancer (IARC) classified glyphosate as a probable carcinogen to humans in 2015. In the IARC's testing, they discovered that exposure to the chemical causes damage to DNA and chromosomes in humans, in addition to cancer in animals.
NHL is a type of cancer that typically affects the lymph glands but may impact the liver, spleen, bone or bone marrow. Initial symptoms usually consist of enlarged lymph glands, weight loss, fever, and night sweats. There are four stages of severity, and each case is categorized based on whether any major body organs are affected and the number of areas with enlarged lymph glands.
What is the Legal Action Taken Against Monsanto?
Three separate juries have ruled against Monsanto (Bayer) for failing to warn consumers of the alleged cancer risks from Roundup. As a result, the dangerous product manufacturer has been instructed to pay a combined $2.37 billion to those plaintiffs. However, judges have since reduced those jury awards, but in total Monsanto owes more than $180 million to victims so far. The three consecutive losses are a great sign for future cases that make it to trial, or may push the company into settling. Since July, the number of plaintiffs suing Monsanto (Bayer) has more than doubled.
 Contact Our Roundup Lawsuit Lawyers in Kentucky
If you or a loved one has been diagnosed with non-Hodgkin's lymphoma or another type of cancer after repeatedly using RoundUp, speak to one of our mass tort attorneys. We will fight to get you the compensation you need and deserve for your medical bills, lost income, pain and suffering, and more. Our firm has been protecting victims in Kentucky against large companies for more than 25 years. Call us at (713) 554-6780 or complete our online contact form to get started with a free initial consultation for your Kentucky roundup lawsuit.