South Carolina Roundup Lawsuit Lawyer
Monsanto is facing an ever-increasing number of Roundup class action lawsuit, with plaintiffs blaming the company for contracting cancer after using their product RoundUp. Currently, over 40,000 victims are seeking damages for the alleged link between the weed killer and non-Hodgkin's Lymphoma (NHL). The manufacturer is accused of intentionally not warning consumers, although they knew of the associated cancer risks. Victims who have been exposed to RoundUp in South Carolina have options. We can help you obtain the justice you deserve. Contact the Dunken Law Firm and have your case evaluated for free today.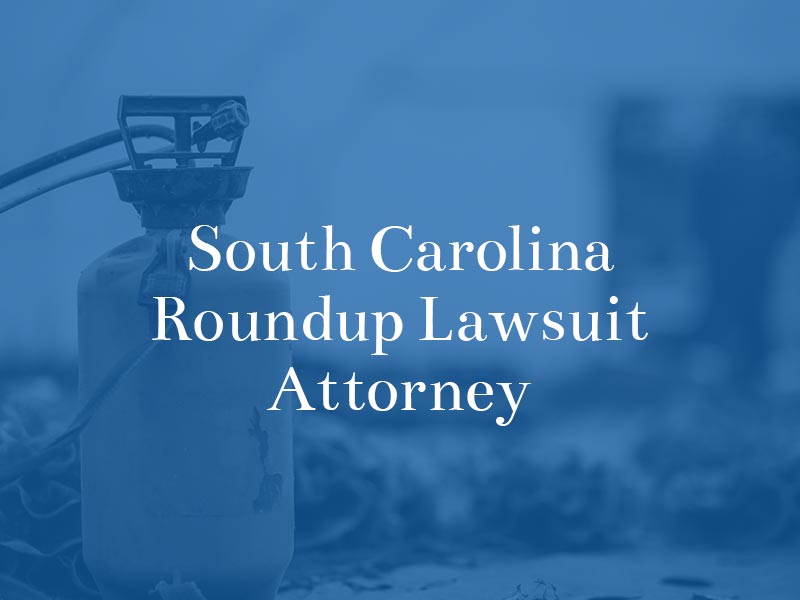 What is RoundUp? 
Developed in 1970 by a Monsanto chemist, RoundUp quickly grew in popularity and is the most widely used herbicide in the world. The chemical glyphosate is the primary ingredient in Roundup, and is a non-selective herbicide, meaning it kills most plants. The chemical prevents plants from creating certain proteins that are needed for growth. 
What Is the Danger?
A 2015 assessment released by the International Agency for Research on Cancer (IARC), categorizing glyphosate as a group 2A probable carcinogen, led to an increase in lawsuits alleging RoundUp as the cause of the plaintiffs' cancer diagnoses. While no one has definitively stated that glyphosate causes cancer, research shows there is a link associated with exposure and NHL. 
Who is at the Highest Risk of Cancer from Roundup Exposure? 
Individuals who may be at the highest risk of developing NHL from RoundUp exposure are those who use it frequently, typically as a part of their job. The repeated and long-term high-level exposure can put agricultural workers, groundskeepers, landscapers, gardeners, farmers, garden center employees and pesticide/ herbicide applicators most in danger. Although, that's not to say that the average consumer is not at risk. Homeowners who consistently spray RoundUp on their lawn or in their gardens can also face negative repercussions from coming into contact with glyphosate. Contact a South Carolina Roundup lawsuit attorney if you are developing NHL or another form of cancer due to exposure.
South Carolina Counties with Highest Glyphosate Use
Glyphosate use is the highest in the following South Carolina counties: 
Orangeburg County

Darlington County

Lee County

Florence County

Clarendon County

Dillon County

Sumter County

Williamsburg County

Horry County

Marlboro County
RoundUp has been used for years to help crops thrive, including on corn, wheat, soybeans, sugar beets, alfalfa, and cotton. Anyone who breathes in the air near crops that have been sprayed is at risk, in addition to those who consume food or water that has come into contact with RoundUp.
Who Can File a Roundup Lawsuit in South Carolina? 
Any individual can file a lawsuit against Monsanto if they have evidence supporting their claims. However, the strongest RoundUp cases typically involve victims who have had prolonged and significant exposure to the weed killer and have since been diagnosed with NHL or multiple myeloma. Successful lawsuits can result in compensation for your: 
Medical bills associated with cancer treatment.

Lost wages for the time you were unable to work.

Pain and suffering, and/or emotional distress.

Burial and funeral expenses, in the event of wrongful death.
Three recent court cases have resulted in verdicts favoring RoundUp cancer victims. The juries have ordered Monsanto to pay in total over $2 billion in damages. Judges have since reduced the awards, but the favorable outcomes still bode well for other plaintiffs pursuing Roundup lawsuits. 
Contact a South Carolina Roundup Lawsuit Attorney. Let Us Help You
We have the vast resources necessary to pursue a claim against a large corporation, such as Monsanto. They must be held accountable, and we will make sure that happens. Call  (713) 554-6780 or contact us online to schedule your free consultation today with our mass tort litigation lawyer.