Colorado RoundUp Lawsuit Lawyer
Monsanto (Bayer), the creator of the weed killer Roundup, is ordered to pay a total of more than $180 million to cancer victims in three separate cases. This is only the beginning, as the manufacturer is now facing over 42,000 lawsuits. Legal action is being taken on the grounds that the company has failed to warn consumers of the risks associated with their herbicide's active ingredient glyphosate. This chemical is now known to cause cancer, particularly non-Hodgkin's lymphoma (NHL). On behalf of those impacted, the Roundup weed killer attorney at Dunken Law firm is accepting cases and advocating for victims in Colorado and nationwide. If you believe you have a claim, schedule a free consultation for your Colorado Roundup lawsuit by calling (713) 554-6780 or filling out our online contact form.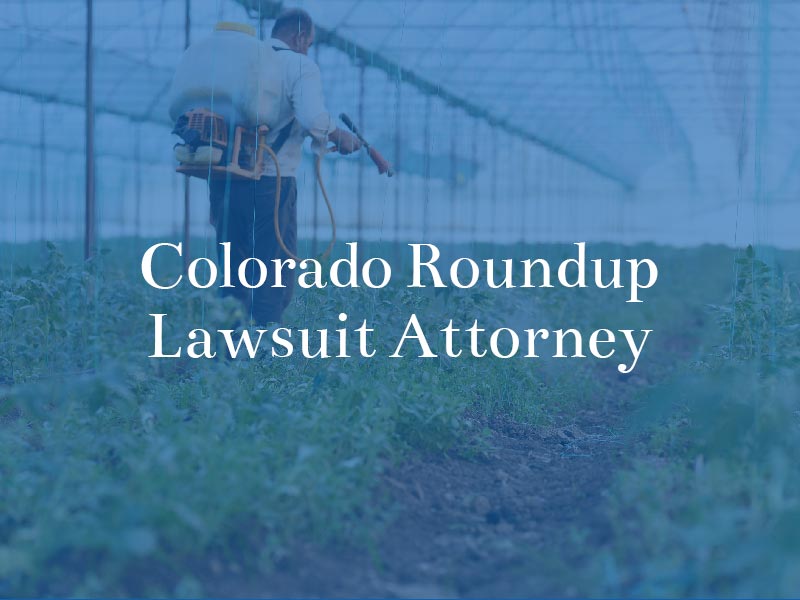 What is Roundup's Connection to Cancer?
Researchers and scientists have studied the link between Roundup weed killer and NHL, finding that glyphosate can change and damage the genetic material of cells. After this discovery, along with the fact that the chemical causes cancer in animals, the International Agency for Research on Cancer (IARC) classified the chemical as a probable carcinogen in 2015.
A new study published in February 2019, has shown a clear link between being exposed to glyphosate and an increase in the risk of developing NHL. Researchers from the University of Washington concluded that the risk of contracting NHL increases by 41 percent. Contact a Colorado Roundup lawsuit attorney if you've been diagnosed with NHL.
Who is Most At-Risk for RoundUp-Related Cancer in Colorado?
People who use glyphosate regularly are at the highest risk for cancer, especially those who work in the following industries:
Farmer (especially those who cultivate commonly sprayed crops, including corn, soybeans, wheat, cotton, and sugar beet)
Landscaper
Professional gardener
Groundskeeper
Agriculture worker
Pesticide and herbicide applicator
What Counties in Colorado Have the Highest Glyphosate Use?
In Colorado, there are areas that potentially have higher exposure rates than others. The following five counties have reportedly had the highest use of glyphosate between 1992 and 2017: Kit Carson County, Yuma County, Washington County, Weld County, and Kiowa County.
Types of Compensation Available for RoundUp Cancer Victims
Victims who have developed NHL or another type of lymphoma cancer related to RoundUp use are entitled to seek monetary compensation for:
Medical bills and expenses related to the cancer diagnosis.
Lost income and diminished earning capacity.
Pain and suffering
Punitive damages (when applicable).
Any other economic losses.
Depending on the type and severity, lymphoma cancer can be both debilitating and life-changing. Workers in certain occupations are the most at risk of developing NHL due to the heavy and consistent use of RoundUp. That includes farmworkers, garden center employees, nursery employees, landscapers, groundskeepers, and professional gardeners. Homeowners are also in danger if the weed killer is continuously used in their gardens or yards.
What is Monsanto's Cover-Up? 
Although there have been three verdicts all in favor of plaintiffs, Monsanto (Bayer) remains adamant in proving that the studies and findings regarding the harmful effects of Roundup are false. Their efforts are also in spite of the fact that documents were unsealed during those trials, containing the following evidence:
Monsanto had two scientific papers ghostwritten to support the product's safety.
Monsanto used and paid for "independent" scientific literature to promote and defend its herbicides.
 The documents consisted of interim emails and also the email communications between the federal regulators and the company. Monsanto was aware that RoundUp was being evaluated for carcinogenicity, which prompted their preparation of a public relations attack.
Contact Our Colorado Roundup Lawsuit Attorney for Help
Consult directly with one of our highly qualified Colorado RoundUp litigation attorneys today. We offer free case evaluations, reach us through our online request form or by calling (713) 554-6780.