What to Look for in Legal Representation for Truvada
September 24, 2019 | Firm News
If your health has been seriously affected by Truvada, seek the help of a lawyer. Pharmaceutical companies have the duty to sell medications that are safe to use and to provide sufficient warning about possible side effects. Unfortunately, this is not the case when it comes to the drug Truvada, which is used to treat or prevent HIV.
A lawyer who handles dangerous drug cases can file a compensation-seeking injury claim on your behalf against the responsible manufacturer, Gilead Sciences, Inc. Choosing the right legal representation can be all the difference in the outcome of your case, which is why the mass tort lawyer you select should possess the following qualities.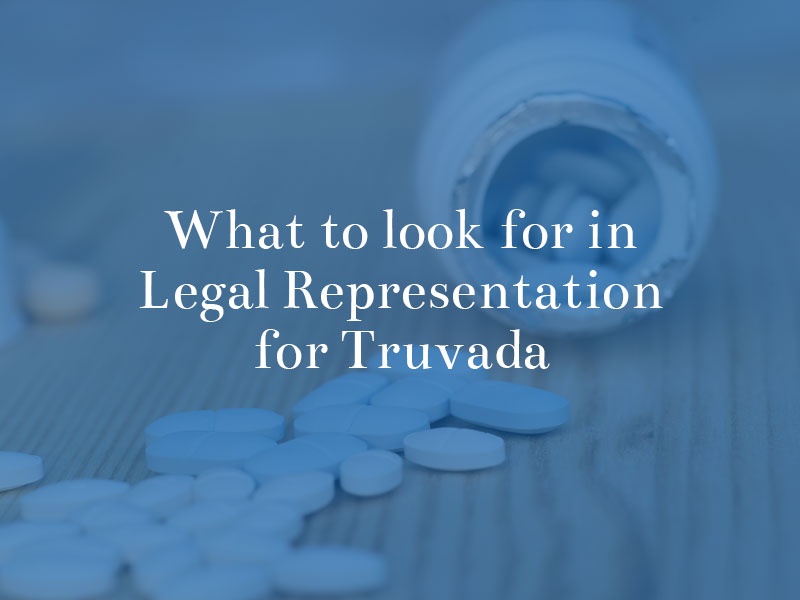 Experience
Pharmaceutical companies are huge corporations with the money to hire an army of aggressive lawyers. Rarely will a company of this size admit fault when a dangerous drug is responsible for severe side effects, and they are often defended by large insurance companies with deep pockets. These types of cases are often complex, high-dollar claims. You'll need a skilled mass tort attorney with extensive knowledge and experience in order to get anywhere near a fair settlement.
Reputation
It is important to make sure you look at the reputation of Truvada lawyer to ensure they have a solid track record when it comes to dangerous drug claims. Experience is only as good as the success that comes from it. A talented dangerous drug lawyer will take your case on a contingency fee basis, which means they will take all of the risk, by not getting paid unless you do.
Resources
This is key, whether you are joining a class-action lawsuit or filing individually against Gilead. An attorney needs to have the proper resources available to fully research and handle your Truvada injury case. In addition to determining financial stability, find out how many class action or individual lawsuits the firm is pursuing. You will need assurance that there is enough staff to handle your case, without being stretched too thin.
Why People Are Suing Truvada's Manufacturer
Since its introduction in 2004, Truvada has had success in the treatment and prevention of HIV and AIDS. However, the medication, formulated from the drugs Emtricitabine and Tenofovir Disoproxil Fumarate (TDF), has also been linked to a number of serious side effects, including:
Kidney Injuries

Chronic kidney disease
Kidney failure
Renal failure
Decline in kidney function

Bone Injuries

Bone fractures
Osteomalacia: softening of the bones, loss of bone structure
Osteoporosis
Issues with teeth: decay, loss
Numerous lawsuits against Truvada's manufacturer Gilead Science, Inc. are claiming the company failed to warn doctors and patients of known serious risks. They also allege that the company, being aware of the drug's toxicity, formulated a safer version but withheld the product in order to maximize profits then continued to market Truvada as "risk-free." In addition, the company concealed studies showing that the safer drug, containing tenofovir alafenamide (TAF) rather than TDF, was not as toxic. Gilead later released the studies, once their patent on Truvada and TDF was running out.
Why You Need Legal Representation
The deception by Gilead of withholding studies containing evidence of a safer anti-HIV medication TAF, is a strong indicator that the manufacturer was aware of the severe risks associated with Truvada and other TDF drugs. Therefore, the pharmaceutical company may owe compensation to Truvada patients who have suffered serious injuries.
If you have suffered severe side effects from taking Truvada, you have the right to file a Truvada injury lawsuit against Gilead. A lawyer can help you seek a financial recovery for the losses you have suffered, including:
Current and future medical expenses
Current and future lost wages
Pain and suffering
Loss of consortium
Punitive damages
Contact The Dunken Law Firm
Our national defective & dangerous drug lawyers will work diligently and passionately on your behalf, in order to hold Gilead Sciences, Inc. accountable for their negligent actions. The attorneys from The Dunken Law Firm are proud to have more than 25 years of experience going up against large companies and successfully obtaining compensation for our clients. We are ready to do the same for you. Reach our office by calling (713) 554-6780 or requesting a free consultation online.