Truvada and TDF Drugs Linked to Kidney Damage
September 24, 2019 | Firm News
People who are being prescribed anti-HIV medications such as Truvada, manufactured by Gilead Sciences, are experiencing kidney damage and other severe side effects due to the drug-containing tenofovir disoproxil fumarate (TDF). Truvada is a medication that combines both TDF with Emtricitabine and is used to either combat HIV or as preventative care. Countless patients are now suing Gilead Sciences for compensation after suffering from serious injuries. The lawsuits are claiming that the manufacturer was aware of these risks but failed to warn patients, and even worse, hid a safer drug from the market for the sake of profit.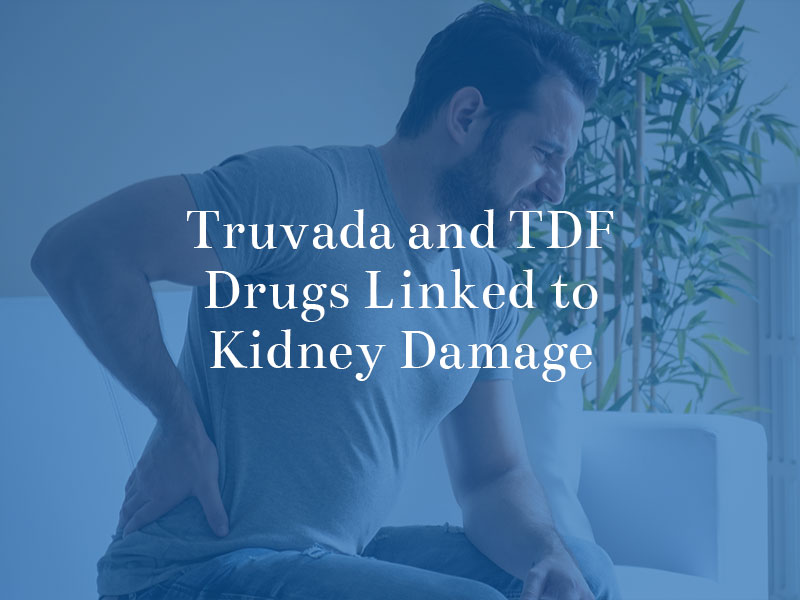 What is Truvada and other TDF Medications?
According to the manufacturer's medication guide, the use of Truvada and other TDF medications can either:
"Treat HIV-1 infection when used with other anti-HIV-1 medicines in adults and children who weigh at least 37 pounds;" or
"Help reduce the risk of getting HIV-1 infection when used with safer sex practices in adults and adolescents who weigh at least 77 pounds."
TDF is one of the two ingredients in Truvada, however, it is the drug that predominantly treats HIV. Although it is toxic, very high levels of TDF are required to be effective in lowering the amount of HIV in the body. The following brand names of TDF medications are currently on the market and manufactured by Gilead:
Truvada (the most popular and widely used TDF)
Atripla
Viread
Stribild
Complera
Symfi-Lo
Cimduo
Side Effects of Truvada and other TDF Drugs
The evidence against Gilead Science is mounting for their formulations of HIV/AIDS medications created with TDF. Lawsuits are claiming the company withheld vital test results conducted over 10 years ago, which prove the drug is highly dangerous, in order to increase profits. Patients are reporting severe side effects including kidney damage, which causes a decrease in the organs' function, which can lead to kidney or renal failure. Unfortunately, signs of kidney damage do not present themselves until it has become extensive. Symptoms may include:
Nausea or vomiting
Fatigue
Decreased appetite
Weight loss
Issues with sleep
Shortness of breath
Muscle cramps
Swollen feet, ankles, or legs
Changes in urine output
When severe damage to the kidneys has turned into kidney failure, patients will likely require dialysis or an organ transplant. The failure may also lead to additional serious medical complications, such as anemia, heart disease, and bone damage. The bone damage, also called Osteomalacia, can be especially dangerous for patients taking drugs containing TDF, as the chemical already causes bone density loss as a result of its toxicity.
The Link between Truvada/TDF and Kidney Damage
Numerous studies have concluded that Truvada and other TDF medications are linked to kidney damage. However, an especially alarming 2012 study conducted at the University of California, San Francisco found that the risk of chronic kidney disease rose 33% every year among more than 10,000 HIV positive patients taking Truvada. Additionally, signs of kidney disease caused by Truvada remained evident for at least one year after stopping treatment. The chance of developing kidney damage also increased on an annual basis by 34%, and 11% for a decline in kidney function.
The Dunken Law Firm will Advocate for You
If you or someone you love has been diagnosed with serious damage to their kidneys after taking Truvada, contact The Dunken Law Firm immediately. You may be a victim of misconduct by a pharmaceutical company and eligible for compensation. Reach our office by calling (713) 554-6780 and schedule a free initial consultation today.