What Should I Expect from Filing a Talcum Powder Lawsuit?
November 17, 2019 | Firm News
Thousands of Talcum powder lawsuits are pending against the manufacturers, with victims claiming they have developed cancer from talc products contaminated with asbestos. The two types of conditions most commonly linked to talcum powder are ovarian cancer and mesothelioma, but other types of cancer can also be caused by frequent use. If you or a loved one is considering filing an injury claim, you may be wondering what to expect.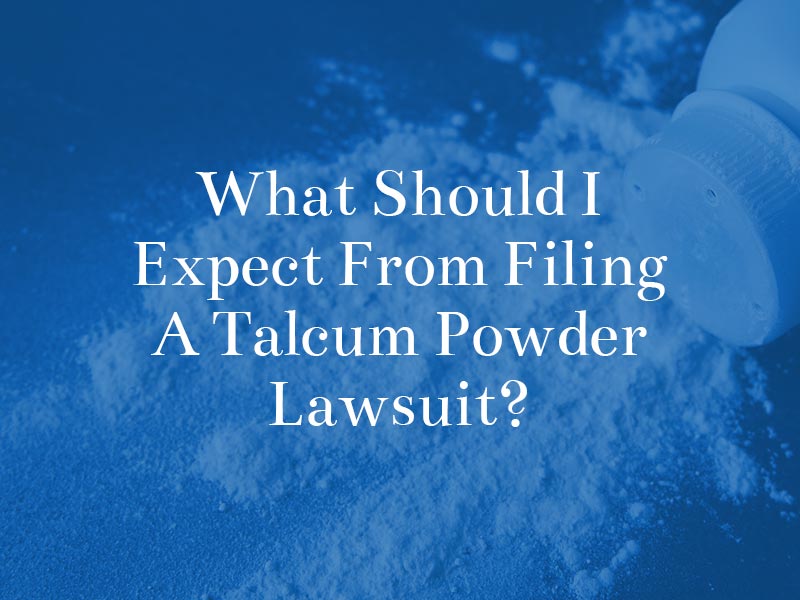 Preparing for a Claim
If you believe there is a link between talcum powder and your cancer diagnosis, the first priority is having an attorney review your case. Consultations are typically free, and an attorney will be able to determine if you are eligible to take legal action. If so, you have the right to hold the manufacturer accountable. Plaintiffs across the U.S. have been awarded hundreds of millions of dollars for the harm they've suffered due to contaminated talcum products, and you could be entitled to significant compensation yourself.
When you file a talcum powder lawsuit, you could be eligible to recover:
Medical bills (current and future treatment)
Lost wages
Loss of future earnings
Diminished earning capacity
Pain, suffering, and mental anguish or emotional distress
A jury may also be inclined to award punitive damages in cases involving a manufacturer who engaged in particularly egregious behavior. For example, there are allegations against Johnson & Johnson (J&J), claiming they knowingly were producing and distributing harmful products to consumers for decades. Punitive damages are awarded as a means to punish the defendant, and as a warning to others who may engage in similar conduct.
How Long Will a Talcum Powder Lawsuit Take?
Unfortunately, it is not really possible to give an exact time frame on how long it will take to resolve your case. A talcum powder claim will involve going up against a large corporation, most likely facing thousands of lawsuits, which can lengthen the process. Depending on the defendant, you may have the option of joining multidistrict litigation (MDL), rather than filing individually. For instance, outside of state court cases, J&J is facing over 14,000 lawsuits filed with the federal court system that have been combined into an MDL. The cases are being heard by Judge Freda Wolfson in the District of New Jersey.
An MDL consolidates hundreds or thousands of cases filed across the country, by plaintiffs who are injured in a similar way. The cases are transferred to a single court, but only for the purposes of discovery and pretrial proceedings. Once this phase of fact-finding is complete and if the claim has not been settled or dismissed, then each case will be sent back to their original court for trial. An MDL differs from class-action lawsuits in this way. The benefits of an MDL, include saving time and money on, by sharing costs of pretrial proceedings and motions, as well as the opportunity for plaintiffs to be awarded more money than in a class-action lawsuit.
How Much Does It Cost to File a Talcum Powder Lawsuit?
 Most lawyers handle a talcum powder lawsuit on a contingency fee basis like in other personal injury cases. This means the lawyer will only be paid if you win your case through a settlement or at trial. A percentage of the compensation you receive will be taken as legal fees. Before hiring an attorney, it is important to discuss any associated charges and costs, as well as any court filing and expert witness fees.
Recent Talcum Powder Verdicts
$30 Million — March, 2019
A California jury ruled in favor of Teresa Leavitt, who was diagnosed with mesothelioma, which they deemed to be caused by exposure to J&J talcum powder.
$4.6 Billion —  July, 2018
Twenty-two women were awarded $4.6 billion by a St. Louis jury, against J&J for ovarian cancer related to the use of baby powder and asbestos fibers contained in the product.
$25 Million — May, 2018
A jury concluded that Joanne Anderson's mesothelioma was caused by her use of J&J's talcum powder on her children and while she bowled.
$37 Million — April, 2018
Stephen Lanzo was awarded $37 million in compensatory damages, and $80 million in punitive damages, against J&J over claims that he contracted mesothelioma caused by extensive use of talc powder products that contained asbestos.
Verdicts or settlements in talcum powder lawsuits are a case-by-case decision, either by a jury or as a result of negotiations between a defendant and the plaintiffs' attorneys. However, when it comes to an MDL, it is common for a defendant to offer a global settlement, to which each of the plaintiffs can agree.
Contact the Dunken Law Firm
You may have a limited amount of time to file a talcum powder lawsuit, call (713) 554-6780 and schedule a free consultation today.